Please Login to Send Message.
Poetry / Sad
jab kabhi bolana waqt par bolana
muddaton bolana mukhtasar bolana
dal dega halaqat mein ik din tujhe
ae parinde tera shakh par bolana
pahale kuch dur tak sath chal ke parakh
phir mujhe hamsafar hamsafar bolana
umr bhar ko mujhe besada kar gaya
tera ik bar muh pher kar bolana
meri khanabadoshi se puche koi
kitna mushkil hai raste ko ghar bolana
q hai khamosh sone ke chidiya bata
lag gai tujh ko kis ke nazar bolana.


·

1 Like ·

Sep 11, 2018 at 00:09
Category:
sad
Poetry / Sad
Sach baat maan lijiye chehre pe dhool hai
Ilzaam aaino''on pe lagana fazool hai
Teri nawazishein hon tu kaanta bhi phool hai
Gham bhi mujhe qabool, Khushi bhi qabool hai
Uss paar ab tu koi tera muntazir nahi
Kacche ghare pe tair kar jana fazool hai
Jab bhi milaa hai, zakhm ka tohfa diya mujhe
Dushman zaroor hai woh magar Baa-usool hai.


·

0 Like ·

Jul 24, 2018 at 12:07
Category:
sad
Jokes / Miscellaneous
aik aadmy ney doosre aadmy de time poocha to os ne zor se thapar os ke moonh pey mara aur kaha 100 hooaa hai.To os aadmy ne kaha shukkar hai...qareeb aik teesra aadmy tha,os ne kaha ""ooee shukkar kis bat ka"" Isper os aadmy ne kaha ke agar main aik ghanta pehle time poochhta to phir..........
·

2 Like ·

Jul 16, 2018 at 18:07
Category:
miscellaneous
Poetry / Sad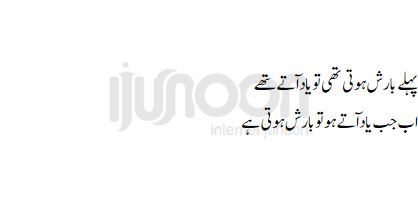 Pehle barish hoti thi to yaad aatay thay
Ab jab yaad aatay ho to barish hoti hai
·

0 Like ·

Jun 15, 2018 at 02:06
Category:
sad
Jokes / Miscellaneous
·

1 Like ·

Jun 10, 2018 at 06:06
Category:
miscellaneous
Social Wall / Text
aik martaba ka zikar hai kay kisi mulk ka aik badshah tha. is ne aik nihayat khobsorat ba'az paal rakha tha jis say woh shikaar ka kaam laita tha. ba'az is ka wafadar aur is ke ishaaron par chalnay wala tha. aik din woh gum hogaya. talaash ke bawajood bhi nah mila. badshah ne mulk bhar mein dhandhora pitwa diya. ba'az ki talaash shuru hogayi. udhar ba'az aik burhiya ki jhonpari mein chala gaya. burhiya nasamajh aur jaahil thi. is ne ba'az ko dekha to kaha, to kin nasamajh logon ke hathe charh gaya hai ? jnhon ne tere paron ki taraash kharaash ki nah tere naakhun katay aur nah terei tedhi chonch ko seedha kiya. so is ne ba'az ki chonch, paron aur naakhun ko kaat diya aur usay bilkul bay kaar kardiya. badshah ke karnde ba'az ko dhundhte huay burhiya ki jhonpari taq puhanche aur ba'az ko lay kar badshah ki khidmat mein paish karkay sara maajra byaan kiya.

badshah bohat royea aur ba'az say kehnay laga tera yahi elaaj tha jo burhiya ne kardiya. to ne apnay maalik say jo teri har zaroorat ko behtar samjhta aur tera khayaal rakhta tha dagha ki aur aisi jagah gaya jahan nah to koi teri zaroorat ko samjhta tha aur nah tera khayaal rakh sakta tha. pass zillat to tera muqaddar honi he thi so woh hui.

sabaq : ba'az say murad ensaan aur budiya say murad duniya.
aik shear mein khud molana room ne zikar kiya hai
kunda pair jahil ein duniya duni sat
har kay mail shud badokhwar o ghami sat
jaahil burhiya ( yeh kamini duniya hai ) aur jo is ki taraf mael howa zaleel aur bewaqoof hai aur badshah say murad haq taala ki zaat hai.

ab matlab wazeh hai kay agar ensaan ( khasosan musalman ) allah taala say dagha karay aur is ko chhore kar jo is say 10 maaom say zyada pyar karta hai, duniya ki taraf mael ho jo kay jaahil burhiya ke manind hai, to duniya aur akhirat mein zillat aur ruswai is ka muqaddar thehre gi aur ensaan apnay maqam o martaba say jo kay allah ne usay ashraf almkhloqat aur apna khalifa bana kar bakhsha hai, gir jaye ga !

·

1 Like ·

May 26, 2018 at 16:05
Category:
text
Social Wall / Photos
·

1 Like ·

May 10, 2018 at 17:05
Category:
photos
Social Wall / Photos
·

2 Like ·

May 06, 2018 at 12:05
Category:
photos
Pinky Queen
Gender :
Country : Pakistan
Followers : 0
Total Updates : 48
Member Since : Aug 24, 2012
Coming Soon!
Coming Soon!