Please Login to Send Message.
Poetry / 0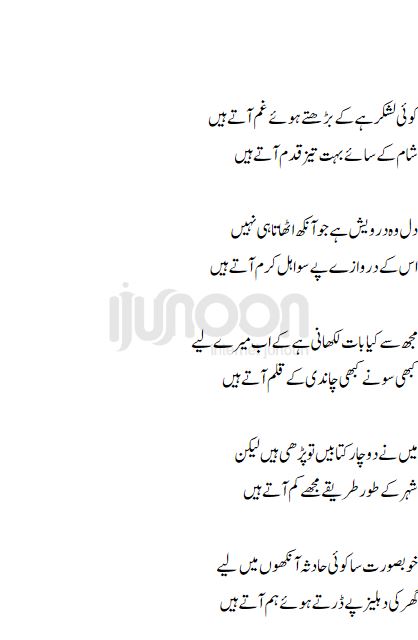 koi lashkar hai ke barhtay hovay gham aatay hain
shaam kay saaye bohat taiz qadam aatay hain

dil woh darwaish hai jo ankh utha'ta hee nahi
is kay darwazay pay soo ehal e karam atay hain

mujh say kya baat likhaani hai ke ab mairay liye
kabhi sonay kabhi chandi kay qalam aatay hain

mein nay do chaar kitaabain tu parhi hain laykin
shehar kay toor tareeqay mujhay kam aatay hain

khobsourat sa koee hadsa ankhoon mein liye
ghar ki dehleez pay dartay hovay hum atay hain
·

2 Like ·

Apr 27, 2021 at 16:04
Category:
0
Poetry / 0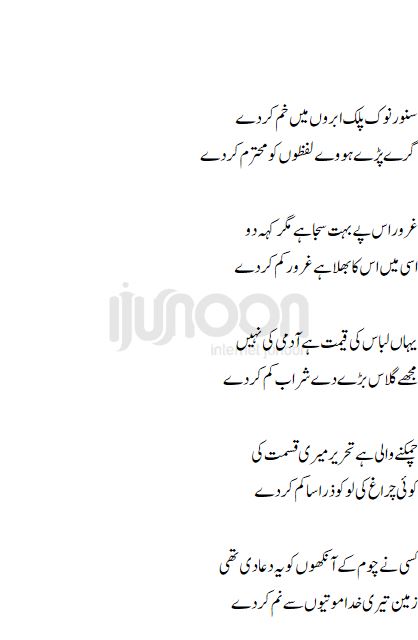 sanwar nook e palak abroon mein khum kar day
giray paray howay lafzoon ko mohtaram kar day

gharoor uss pay bohat saja hai magar keh do
issi mein uss ka bhala hai gharoor kam kar day

yahaan libaas ki qeemat hai admmi ki nahi
mujhay gilaas baray day sharaab kam kar day

chamaknay wali hai tehreer mairi kismat ki
koi charagh ki lo ko zara sa kam kar day

kissi nay choom kay ankhoon ko yeh dua di the
zameen tairi khuda motiyoon say num kar day

·

1 Like ·

Apr 24, 2021 at 18:04
Category:
0
Poetry / 0
hansi, masoom see bachoon ke copy mein abarat see
hiran ke peeth pay baithay parinday ke sharaat see

woh jaisay sardiyoon mein garam kapray day faqiroon ko
laboon pay muskurahat thi magar kaisi haqaarat see

udaasi pat jharoon ke shaam oorhay rasta taktee
pahari par hazaroon saal ke koyee amarat see

sajaye bazo'oon par bazoo woh maydan mein tunha tha
chamakti thi yeh basti dhoop mein taraj o gharat see

mairi ankhoon, mairay hontoon pay yeh kaisi tamazat hai
kabootar kay paroon ke raishmee ujlee hararat see

khilla dai phool mairay bagh mein pay'ghambaroon jaisa
raqum ho jis ke pay'shaani pay aik ayaat basharat see
·

1 Like ·

Apr 23, 2021 at 01:04
Category:
0
Poetry / 0
apnoon mein raha dil mein utar kar nahi daikha
kashti kay musafir nay samandar nahi daikha

bay'waqat agar jaoon ga sab choonk parain gay
ik umar hoee din mein kabhi ghar nahi daikha

jis din say chala hoon mairi manzil pay nazar hai
ankhoon nay kabhi meel ka pathar nahi daikha

yeah phool mujhay koi warasat mein millay hain
tum nay maira kantoon bhara bistar nahi daikha

pathar mujhay kehta hai maira chahnay walla
mein moom hoon, uss nay mujhay choo kar nahi daikha

·

1 Like ·

Dec 20, 2018 at 02:12
Category:
0
Poetry / 0
chamak rahi hai paroon mein uraan ke khushboo
bula rahi hai bohat asmaan ke khushboo

bhatak rahi hai purani dalaiyaan oorhay
havaili mein mairay khandaan ke khushboo

suna kay koye kahani, humain sulaatee theen
dua'oon jaisee, baray pandaan ke khushboo

daba tha phool koyee maiz poosh kay neechay
garaj rahi thee bohat paychwan ke khushboo

ajab waqar tha sookhay sunehray baloon mein
udasiyoon ke chamak, zard lawn ke khushboo

woh itar dan sa lehja mairay buzurgon ka
rachi bashi hoi urdu zubaan ke khushboo

khuda ka shukar hai mairay jawan baitay kay
badan say aanay lagi hai za'fran ke khushboo

umartoon ke bulandi pay koi mousam kya
kahan say aa gai kachay makaan ke khushboo

guloon pay likhti hoi La' illah il Lall Allah
pahariyoon say utartee azaan ke khushboo
·

2 Like ·

Dec 19, 2018 at 20:12
Category:
0
Poetry / 0
koee phool dhoop ke patioon mein haray ribbun say bandha howa
woh ghazal ka lehja naya naya, na kaha howa na suna howa

jissay lay gaiee hai abhi hawa, woh warq tha dil ke kitaab kaa
kaheen ansoon say mita howa, kaheen ansoon say likha howa

kaee meel rait ko kaat kar koye mouj phool khilla gayee
koi pair payaas say mar raha hai nadi kay paas khara howa

wohi khat keh jis pay jagah jagah do mehaktay hontoon kay chand thay
kisee bholay bisray say taaq par teh gard ho ga daba howa

mujhay hadsoon nay saja saja kay bohat haseen bana diya
mera dil bhi jaisay dulhan ka haath ho mehandiyon say racha howa

wohi sehar hai wohi rastay wohi ghar hai aur wohi lawn bhi
magar iss dareechay say poochna woh darakhat anar ka kya howa

mairay sath jugnoo hai humsafar, magar iss sharar ke bisaat kya
yeah chiragh koi chiraagh hai, na jala howa, na bujha howa
·

1 Like ·

Dec 19, 2018 at 13:12
Category:
0
Poetry / 0
younhee bay'sabab na phira karo, koi shaam ghar bhi raha karo
woh ghazal ke sachi kitaab hai ussay chupkay chupkay parha karo

koi haath bhi na milaye gay jo galay miloo gyi tapaak say
yeah naye mizaaj ka shehar hai zara faslay say milla karo

abhi rah mein kai morr hain koi aye ga koi jaye ga
tumhain jis nay dil say bhula diya, ussay bholnay ke dua karo

mujhay ishtehaar see lagtee hain, yeah mohabtoon ke kahaniyaan
jo kaha hai wo suna karo, jo suna nahi wo kaha karo

kabhi husan parda nasheen bhi ho zara ashiqana libaas mein
jo mein ban sanwar kay kaheen chaloon mairay sath tum bhi chala karo

nahi bay'hijaab woh chand sa kay nazar ka koye asar na ho
ussay itni garmi e shouq say bari dair tuk na takka karo

yeah khizaan ke zarad see shaam mein jo udaas pair kay pass hai
yeah tumharay ghar ke bahaar hai issay ansoon say hura karo
·

1 Like ·

Dec 18, 2018 at 17:12
Category:
0
Poetry / Relegious
mein nay tairi ankhoon mein parha Allah he Allah
sab bhool gaya yaad raha, Allah he Allah

phooloon mein basi chandini ratoon ke namazain
khushboo se sitaroon ke dua, Allah he Allah

pairoon ke safain pak farishtoon ke qitarrain
khamoosh pharoon ke nida, Allah he Allah

baadal ke ibadat hai barasta howa paani
ansoo ke ghazal hamd o sana, Allah he Allah

ik phool nay konain ke doulat mujhay day'di
ansoo say hatayli pay likha Allah he Allah

hum dono ussi paak samandar ke hain lehrain
La haath mairay hath mein la, Allah he Allah

Ik naam ke takhti ka mujhay shouq howa tha
pani pay hawaoon nay likha Allah he Allah

woh sourat e yaseen ke kafoor ke khushboo
mehkay howay pholoon ke rida, Allah he Allah
·

1 Like ·

Dec 18, 2018 at 09:12
Category:
relegious
Social Wall / Text
·

1 Like ·

Dec 13, 2018 at 05:12
Category:
text
Poetry / Love
Kia kahoon apney chaman se mai juda kiunker hua
Aur aseere halqa-a-daam e hawa kiunker hua

Jaye hairat hai bura sare zamane ka hoon mai
Mujh ko yeh khilat sharafat ka ataa kiunker hua

Kuchh dikhane dekhne ka tha taqaza taur per
Kia khabar hai tujhko ae dil faisla kiunker hua

Hai talab bemudda hone ki bhi aik mudda
Murgh e dil daam e tamanna se riha kiunker hua

Dekhne wale yehan bhi dekh lete hain tujhe
Phir yeh wada hashr ka sabr aazma kiunker hua

Husne kamil hi na ho is behijabi ka sabab
Wo jo tha pardon mai pinhan khudnuma kiunker hua

Maut ka nuskha abhi baqi hai ai wirde firaq
Charagar deeewana hai mai ladawa kiunker hua

·

1 Like ·

Dec 01, 2018 at 17:12
Category:
love
Ijunoon
Gender :
Country : Pakistan
Followers : 0
Total Updates : 9958
Member Since : Mar 06, 2003
More Details
Educaiton : Undergraduate
Religion : Islam
Caste :
Language : Urdu
Coming Soon!
Coming Soon!